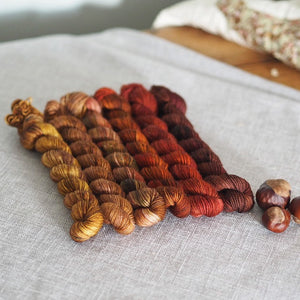 Ready-to-ship.
These 6 colourways form the 'Autumn' fade section of our 2022 'A Year at the Cabin' advent calendar. The final Winter season will be made available from 1st August.

You will receive 6 skeins on your choice of yarn base, the colourways are:
Wheatstack
Pa's Fiddle
Mending Basket
Flame-coloured Leaves
Maple Sugar
Roasting Chesnuts

Photo shows Audrey Classic Sock 20g. Please note there may be some variation to the colour shown if you purchase on a different yarn base.

Please select from the following yarn bases:

Audrey classic sock - 75% super wash Merino, 25% Nylon (20g/85m)
Bardot high twist sock - 80% super wash Merino, 20% Nylon high twist (20g/73m)
All our yarns are ethically sourced. Find out more about each yarn base here.

***
Please note that although I try to ensure that the product photos are true to life, colours may vary depending on your monitor or device.
All my yarn is hand-dyed in small batches and variations between skeins should be expected. If you buy more than one skein of the same colourway then I will endeavour to select them from the same batch. Due to the individual nature of hand-dyed yarn, I would always recommend alternating skeins or knitting from both ends of the same ball if you are concerned about colour pooling or mismatching. If you have any questions then please do not hesitate to contact me.
To keep your items looking beautiful, I would advise hand washing in luke warm water and a mild detergent. Dry flat.
Whilst every effort is taken to rinse all remaining dye from the yarn, there may be a slight colour bleed on the first wash.