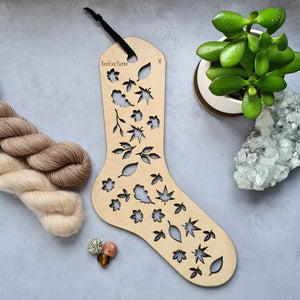 These beautiful handcrafted sock blockers are of the very best quality and will finish your handknits perfectly. Blocking your handknits will even out stitches and give a professional appearance.
Or, you may like our blockers to display your favourite socks!
Featuring a beautiful autumn leaves pattern - so cosy! Each blocker comes with a black velvet ribbon so that you can display your handiwork.
Please note: price is for one blocker - to purchase a pair please add 2 to your cart.
Sizes (UK):
Small: UK shoe sizes 3 to 4.5
Medium: UK shoe size 4.5 to  6
Large UK shoe size - 6 to 7.5