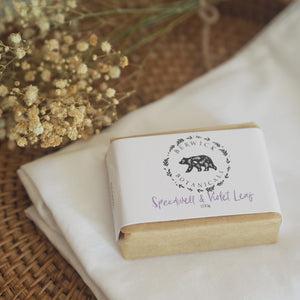 Berwick Botanicals is a family run business that specialises in creating handmade, plant-based, natural skincare. Lisa and Grace work with local ingredients and botanicals that reflect the beautiful Berwick and Borders Countryside & Coast.
All soaps are deliciously scented and come in eco-friendly packaging.
Contents: 1 x Speedwell & Violet Leaf 100g Soap Bar
Inspired by beautiful walks around the historic walls that surround Berwick-upon-Tweed, we have crafted a soap that pulls together a few common wild flowers that grow abundant and wild along the paths & down by the river Tweed.

Speedwell & Common Violet grow all over the UK are often used and incorporated into soothing skincare, and also restorative herbal teas.
Each bar of Speedwell & Violet Leaf soap is packed full of beautiful Organic Beeswax and local Honey from the Scottish Borders.
This is a lightly scented bar using a fresh, mood-boosting blend of Lemon Grass and Juniper essential oils for a zesty, earthy bar - as well as incorporating powdered fruity Blueberries.

---------------------

Honey is well known to be soothing on the skin, and to have healing and anti-bacterial properties - which is why it is a great ingredient to incorporate into natural skincare!

Honey is a natural humectant and absorbs moisture from the air. This helps the skin retain moisture, so great for keeping hands from becoming dry.*

------------------------------------------------------------------------------

I N G R E D I E N T S:

Aqua, Glycerin*, Sodium Stearate, Cocamidopropyl
Betaine, Sodium Chloride, Sodium Citrate, Cocos Nucifera (Coconut) Oil, Polyglyceryl-4 Oleate**,
Trisodium Sulfosuccinate, Citric Acid, Mel (Honey), Cera Alba (Beeswax), Vaccinium myrillus (Bilberry), Juniperus communis (Juniper) Oil, Cymbopogon Citratus (Lemongrass) Oil, Veronica officinalis (Speedwell), Viola odorata (Violet Leaf), Citra***l, Limonene***, Eugenol***, Linalool***, Geraniol***, Citronellol***
*Glycerine is derived from Rapeseed
**Polygceryl-4 Oleate manufactured using Sunflower & Rapeseed Glycerine
***Naturally occurring in essential oils


- All soap bars are free from Palm oil, synthetic colours, artificial fragrances, and SLS/SLES.
- Not tested on animals
- Blossom Honey used in each bar is sourced from local hives based in the Scottish Borders
- All soap recipes are tested and comply with CPSR standards.

Approximate weight: 100g per bar

It is best to keep these bars on a well-drained surface after use, allowing to dry between uses.

*These soap bars include Honey which is a natural humectant. Store unwrapped bars in a well-ventilated, dry place to prevent soap from 'sweating'.