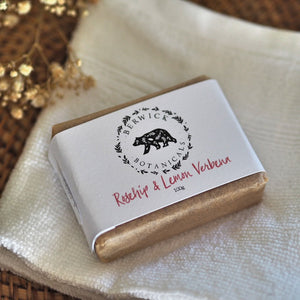 Berwick Botanicals is a family run business that specialises in creating handmade, plant-based, natural skincare. Lisa and Grace work with local ingredients and botanicals that reflect the beautiful Berwick and Borders Countryside & Coast.
All soaps are deliciously scented and come in eco-friendly packaging.
Contents: 1 x Rosehip & Lemon Verbena 100g Soap Bar
Each bar of Rosehip & Lemon Verbena soap is packed full of beautiful Organic Beeswax and local Honey from the Scottish Borders.
This is a lightly scented bar using a fresh, mood-boosting blend of Lemon Verbena and Lavender essential oils for a zesty, exciting soap - as well as incorporating powdered fruity Rosehip berries.
---------------------
Rosehips are fruity, bright red, wild berries that can be found in hedgerows and wild spaces around the UK, and are known for their many different health benefits.
In skincare Rosehip berries are used for there skin-brightening, healing and restorative properties which helps to keep skin plump, supple and radiant.
Rosehips have similar properties to Sea Buckthorn berries, and are also packed full of wonderful minerals as well as Vitamin B, C & E - great for keeping skin moisturised in Winter months, and also improves nail health!
Rosehips are also known for helping protect against sensitive skin conditions such as Eczema and Psoriasis due to being anti-inflammatory & there ability to sooth irritation and redness.
-----------------------
Honey is well known to be soothing on the skin, and to have healing and anti-bacterial properties - which is why it is a great ingredient to incorporate into natural skincare!
Honey is a natural humectant and absorbs moisture from the air. This helps the skin retain moisture, so great for keeping hands from becoming dry.*
------------------------------------------------------------------------------
I N G R E D I E N T S:
Aqua, Glycerin*, Sodium Sterate, Cocamidopropyl Betaine, Sodium Chloride, Sodium Citrate, Cocos Nucifera (Coconut Oil), Polyglyceryl-4 Oleate**, Trisodium Sulfosuccinate, Citrus Acid, Mel (Honey), Cera Alba (Organic Beeswax), Rosa Canina Powder, Thymus Hiemalis Leaf Oil, Lavandula Angustifolia Oil, Citral***, Linalool***, Limonene***,Geraniol***, Citronellol***
*Glycerine is derived from Rapeseed
**Polygceryl-4 Oleate manufactured using Sunflower & Rapeseed Glycerine
***Naturally occurring in essential oils
- All soap bars are free from Palm oil, synthetic colours, artificial fragrances, and SLS/SLES.
- Not tested on animals
- Blossom Honey used in each bar is sourced from local hives based in the Scottish Borders
- All soap recipes are tested and comply with CPSR standards.
Approximate weight: 100g per bar
It is best to keep these bars on a well-drained surface after use, allowing to dry between uses.
*These soap bars include Honey which is a natural humectant. Store unwrapped bars in a well ventilated, dry place to prevent soap from 'sweating'.