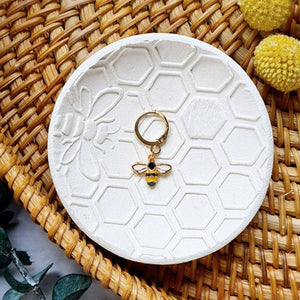 Progress keepers are an essential tool for any knitter or crocheter. This sweet little Honey Bee will safely mark your place in a pattern, help you keep track of your progress or simply adorn your work!
Comes with lever back clasp (shown in photo) - making this stitch marker suitable for both knitting and crochet projects. Will slide over your needles for use as a beginning of round stitch marker, or can be opened up to use as a progress keeper.
If you would prefer fixed ring or lobster clasp please let me know in the notes section when you order.